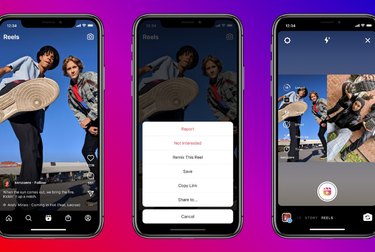 Instagram is starting to look more and more like TikTok. The social media platform just launched a new Remix feature, which lets users create their "own Reel next to one that already exists." If that's confusing, let's put it this way — it's pretty much exactly the same as TikTok's Duet function, which allows users to sing or talk alongside a video that already exists.
You'll be able to Remix both new and old reels, but for old reels, the users will have to turn on the Remix function.
To access Reels, tap the three dot menu of the Reel you're interested in remixing. You can then record a new video that connects to the original one, and from there you can control the volume on your video and the original video, plus you can record a voiceover.