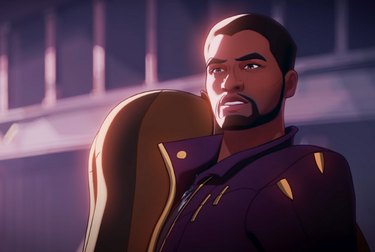 Disney+ is bringing on the heat in August. By now, your kids are probably over you and vice versa, so what better time to plop them in front of the TV for some extra movie/show time?
An animated Marvel series is premiering next month on Disney+ that Marvel fans won't want to miss. ​What If...?​ has a whole bunch of Marvel stars, including Sebastian Stan, Robert Downey Jr., Tom Hiddleston, and Hayley Atwell. Chadwick Boseman will also make his final posthumous appearance as T'Challa, his character from ​Black Panther​.
Also coming next month is the second season of ​Fancy Nancy​, Robin Williams' classic ​Mrs. Doutbfire​, and ​Cruella​ will finally emerge from the Disney+ paywall with free access to all subscribers.
Here's the full list of movies and TV shows coming in August:
America's Funniest Home Videos: Animal Edition (S1)
Cesar Millan: Better Human Better Dog (S1) Ep. Fit For Service
Cesar Millan: Better Human Better Dog (S1) Ep. One Brick At A Time
Disney Junior Fancy Nancy (S2)
Short Circuit Season 2 Premiere
Monsters At Work: Episode 6
Turner & Hooch: Episode 3
Chip 'n' Dale: Park Life: Episode 2
Star Wars: The Bad Batch: Episode 15
The Mysterious Benedict Society: Episode 8 (Finale)
Beverly Hills Chihuahua 2
Beverly Hills Chihuahua 3
Killer Shark Vs. Killer Whale
Gordon Ramsay: Uncharted (S3) Ep. Finland's Midnight Sun
Monsters At Work: Episode 7
Turner & Hooch: Episode 4
Chip 'n' Dale: Park Life: Episode 3
Breaking Bobby Bones (S1), 8 episodes
Cesar Millan: Better Human Better Dog (S1) Ep. Front Of The Pack
Cesar Millan: Better Human Better Dog (S1) Ep. Canine Quarantine
Disney Gabby Duran & The Unsittables (S2), 10 episodes
Disney Junior Chicken Squad (S1), 7 episodes
Star Wars: The Bad Batch: Episode 16 (Finale)
Shark Attack Files (S1) Ep. Sharks Gone Rogue
Monsters At Work: Episode 8
Turner & Hooch: Episode 5
Chip 'n' Dale: Park Life: Episode 4
Cesar Millan: Better Human Better Dog (S1) Ep. Pack Attack
Cesar Millan: Better Human Better Dog (S1) Ep. Blind Faith
Disney The Owl House (S2), 5 episodes
Dr. Oakley, Yukon Vet (S9)
Life Below Zero: Next Generation (S1)
Life Below Zero: Next Generation (S2)
Diary of a Future President
Monsters At Work: Episode 9
Turner & Hooch: Episode 6
Chip 'n' Dale: Park Life: Episode 5
Cesar Millan: Better Human Better Dog (S1) Ep. Twin Trouble
Cesar Millan: Better Human Better Dog (S1) Ep. Dogs V Cats
Dr. K's Exotic Animal ER (S9)
Wicked Tuna (S10), 12 episodes
Disney Gallery: Star Wars: The Mandalorian
Disney Princess Remixed: An Ultimate Princess Celebration