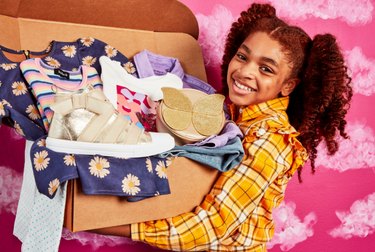 Well, we did it. After most of our kids were home for the past year and a half (even though it may have felt like four years, it wasn't quite that long), most schools are finally back in session. That means your kids actually have to wear clothes — you know, outside clothes that aren't pajamas or whatever their pandemic wardrobe consisted of.
Back to school shopping doesn't have to look like it used to, AKA dragging your kids to the mall while they complain about trying things on. You can shop online, of course, but that requires you to spend time browsing through all the websites and dealing with shipping costs. If you want to make clothing shopping easier, consider signing up for a kids' clothing subscription box.
Subscription boxes might sound fancy and expensive, but in reality, they take the legwork out of shopping, send super fashionable and unique pieces, and you can save a whole bunch of money off retail prices.
Below you'll find the top three subscription boxes that our kids have tried and love. The setup is pretty much the same across the board — all of the companies ask for your child's age and size. And in a brief quiz, you'll choose the style, colors, and patterns your child likes the most. Each company charges a $20 styling fee if you decide not to keep anything, otherwise that fee is credited toward anything you keep.
Whether your kids want/need new clothes for school, sports, or playing, these subscription boxes have it all.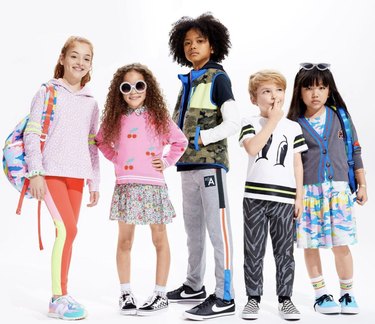 We love Rockets of Awesome because they send you a sneak peak at the clothes the stylist picks out for your child, and if you don't like something, you can easily swap it out for a new item. All the pieces are designed by the company's own team of designers.
Boxes arrive four times a year, and after your kiddo tries everything on, you can decide what you want to keep and what you want to send back. Once you've decided, checkout online and send back the items you're returning. If you keep everything, you can save 25% to 45% depending on the box size you choose.
The average item is priced between $16 and $38.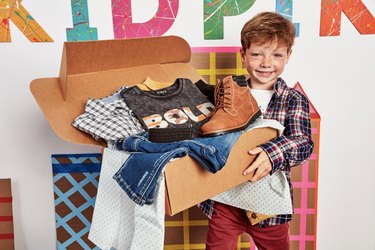 Kidpik sends boxes every four, six, or 12 weeks — the frequency is up to you. The company's professional stylists select three mix and match outfits, including shoes (!!), based on your child's style.
You can buy the items you like and send back what you don't in a provided prepaid bag. If you keep all the items, you'll receive 30% off the total.
The average price of a box is $98 if you keep everything. If you prefer to shop the site, you can choose from individual items or pre-styled outfits.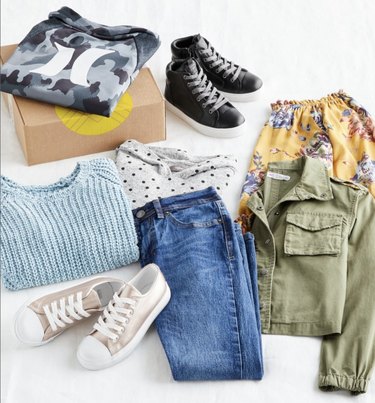 You've probably heard of Stitch Fix, in fact, you may have even tried it for yourself. (They're grown-up clothes are fantastic). But did you know they have boxes for kids, too?
The company's stylists select eight to 12 pieces from Stitch Fix's own labels and from popular brands like Adidas, Cotton On Kids, Toms, Nike, Hurley, Primary, and Joe's.
Items start at $10 each, and if you buy the whole box, you'll get 25% off.