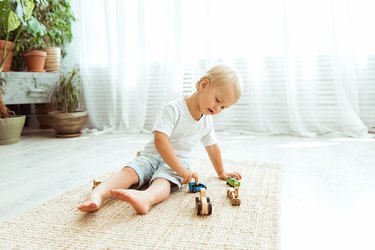 If you have a toddler or preschooler who's obsessed with cars, trucks, monster trucks, and every other type of car and truck you never knew existed, chance are you already own several related toys. But a toddler can never have too many car toys, right? Sigh.
So, if you're looking to add to your child's collection or want to get one started, we rounded up some of Amazon's best car and truck toys that'll make your little one really, really, really happy. Because cars are life.
Check out our list below.
Battat Mini Monster Trucks 6-Pack
Here's a set of six monster trucks that don't do anything fancy, but they are still pretty magical. Not only do they come in a handy carrying case that'll make it easy to take them anywhere, they can literally go anywhere your kid likes to go — the bath, the beach, the playground, and the playroom.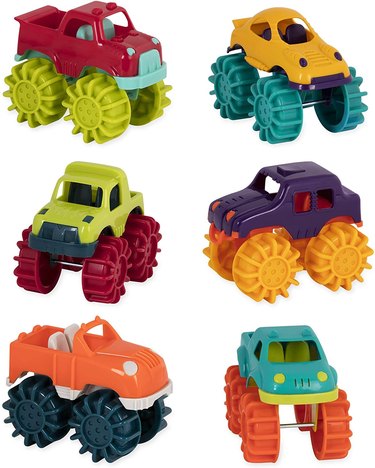 Stomp Rocket Car Launchers
This car launcher set comes with two cars for races (or for when one car gets lost). It's great for indoor or outdoor play and is sure to be a crowd favorite (because cars and jumping on things).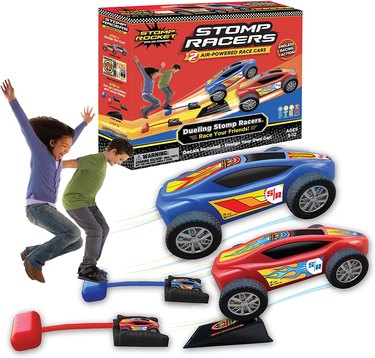 VTech Go! Go! Cory Carson 6-Pack
Do you have a child who lives and breathes Cory Carson? VTech's 6-pack of characters will be a dream come true. Purchase a Go! Go! Cory Carson playset to unlock phrases and sounds (sold separately), but honestly, you don't even need all that if the cars are what your child cares most about.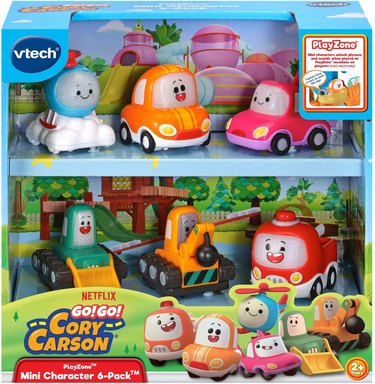 Best Choice Products Ride On Land Rover
Step up your gift giving game with a tiny Land Rover. This 2-seater ride on electric car has two-wheel suspension, treaded tires, and a radio. There's a max speed of 3.7 mph and a weight capacity of 128 pounds. The best part is the parental control — it comes with a remote control so you can safely guide them along until they get the hang of things.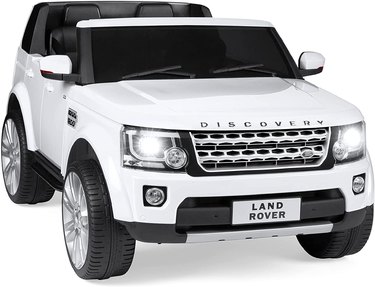 Forty4 Transport Truck 9-Pack
Transport trucks have it all — cars, trucks, buses, and airplanes that all fit inside a big truck. The play possibilities are endless. This one comes with nine vehicles.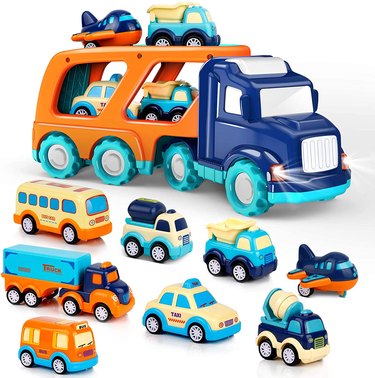 Hot Wheels Monster Trucks 12-Pack
You can't beat a 12-pack of classic 1:64 scale monster trucks. If you're feeling extra gifty, you can even wrap each one of these separately for some added fun.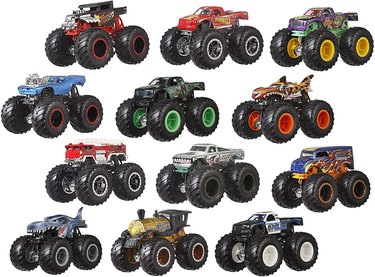 Fisher-Price Little People Launch & Loop Raceway
Here's the great thing about the Fisher-Price Launch & Loop — it'll keep your kids entertained for hours (or at least several minutes). The only downside (aside from the setup) is you'll need to find a place to put it. It's big, but worth it. The toy features a double car launcher that plays music while two included cars zoom down the ramp.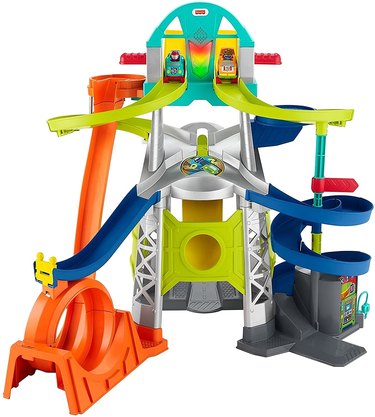 Calling all recycling truck enthusiasts! This 15-inch large-scale trash truck makes realistic sounds for loading, dumping, and rolling. A lever raises the trash been to dump recycling into the truck.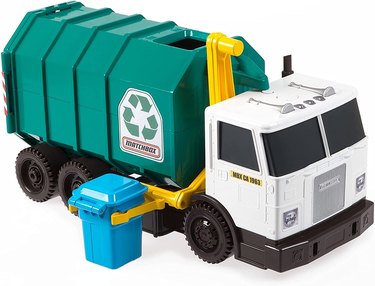 Prextex Remote Control Cars 2-Pack
These remote control cars are perfect for toddlers. They're easy to use and super fun. Plus, there are two cars so your kids can race.