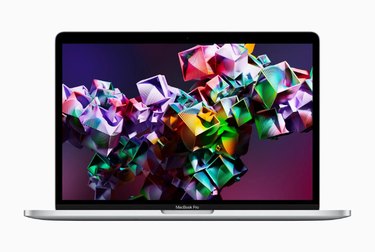 If you've been anxiously awaiting Apple's new 13-inch MacBook Pro, the time has finally come for you to get your preorder in. Beginning this Friday, June 17 at 8 a.m. EST/5 a.m. PST on Friday, the MacBook will become available for preorder. Deliveries will begin on June 24, the same day it'll be available to purchase in stores.
The new MacBook Pro is equipped with Apple's new M2 processor, which the company promises will offer 18 percent faster CPU and 35 percent faster GPU.
Preorders will take place on Apple's website. Configurations include an 8-core CPU, 10-core GPU, 8GB unified memory, as well as a Magic Keyboard and an internal fan. It also has a battery life of up to 20 hours. There's the option for 256GB SSD storage or 512GB SSD storage, with the 256GB going for $1,299 and the 512GB at a higher price point of $1,499. You can also customize the options to what works for you, with support up to 24GB of memory and 2TB of storage.
The MacBook Air M2 will arrive sometime in July if you prefer something less expensive.