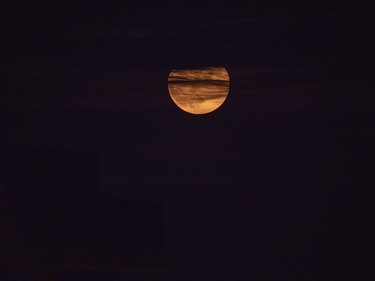 There's going to be a total lunar eclipse Tuesday morning — the first in three years and the last until March 2025. Tomorrow's lunar eclipse will be visible from certain parts of the planet. Those who catch it will see the full Moon slowly darkening and appearing to turn red under Earth's shadow
A lunar eclipse happens when Earth, the Sun, and the Moon are perfectly aligned for Earth to block light being emitted from the Sun, casting a shadow on the Moon. When the Moon is fully in Earth's shadow, a total lunar eclipse occurs.
How to Watch the Lunar Eclipse
The lunar eclipse will take place on Tuesday, Nov. 8. NASA says it'll be visible to the naked eye, but the view will be enhanced by using binoculars or a telescope. The best view will be in North and Central America, as well as Ecuador, Colombia, and western parts of Venezuela and Peru, according to NASA. The eclipse will also be visible in other parts of the world, but the peak activity might occur when the moon isn't yet fully able to be seen.
If you're on the East Coast of the U.S., the eclipse will be visible starting at 3:02 a.m. local time. At that time, the Moon will enter the outer part of Earth's shadow, and the moonset will occur between 6:00 a.m. and 6:40 a.m.
A benefit of being on the West Coast for this lunar eclipse is that it won't be cut short by the moonset. The eclipse will start at 12:02 a.m. and complete at 5:50 a.m.
For those who are in Central Time, you'll be able to see the eclipse starting at 2:02 a.m. until moonset happens between 6:00 a.m. and 6:40 a.m.
Moonset will only slight affect the visibility of the eclipse in Mountain Time. It will begin at 1:02 a.m. and end at 6:50 a.m.
How to Stream the Lunar Eclipse
If you aren't interested in waking up early or staying up late to watch the total lunar eclipse, or if the sky is cloudy or low visibility, you can stream the event online. Here are a few options.
Location: Los Angeles; San Diego; Tucson; New York; Sudbury, Canada; and Santiago, Chile