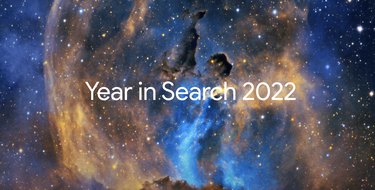 Google released its annual Year in Search review, which lists the top trending searches of the year in various categories. Many of the number one searched words aren't surprising, but it's still fun to look back at what the world was talking about, intrigued by, and dare we say obsessed with in 2022.
What's the number one globally searched word of the year? Wordle. Yep, even though most people gave up on the word-guessing game many months ago when it got frustratingly difficult, World still surpasses all other searches. Other words that rank number one include Ukraine in the news category, Johnny Depp in the actor and people categories, Euphoria for TV shows, domestic short-haired cat for top pets, and Queen Elizabeth for passings. In addition to the Queen, Betty White, Anne Heche, Bob Saget, and Aaron Carter were also heavily searched by people around the world.
In the more obscure categories, there's DARK MATTER, Berlin Germany under the top exhibits, which was searched for using Google Maps; Google Maps was also used to search Sky Garden, London, United Kingdom for top scenic spots; Google Lens was used to search garden roses under the top plants and fungi; and the most searched song is Tak Ingin Usai - Keisya Levronka.