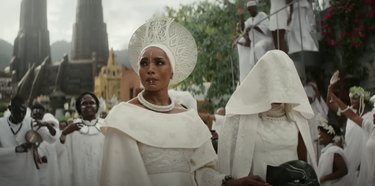 Disney+ is adding to its lineup in February, and that'll include more TV shows, more movies, and more originals. Finally, you and your kids will have new things to watch.
Perhaps most notably, "Black Panther: Wakanda Forever" will be available to stream on Feb. 1, as will "Star Wars: The Bad Batch" and season 2 of "The Proud Family: Louder and Prouder."
As the month goes on, you'll get new episodes of "Hamster & Gretel" and "The Owl House," and new seasons of "Dance Moms" and "Storage Wars." Also coming is "Mila in the Multiverse" and "Marvel Studios: Legends."
Scroll on for everything coming to Disney+ next month.
Black Panther: Wakanda Forever
Miraculous Tales of Ladybug & Cat Noir (S1, S2, S3)
Puppy Dog Pals (S5, 3 episodes)
O Coro: Sucesso, Aqui Vou Eu (S1)
Star Wars: The Bad Batch (S2)
The Chorus: Success, Here I Go
The Proud Family: Louder and Prouder Season 2
Water and Power: A California Heist
Marvel Studios' Assembled: The Making of Black Panther: Wakanda Forever
Celebrity House Hunting (S1)
Forged in Fire: Knife or Death (S1, S2)
Hamster & Gretel (S1, 5 episodes)
History's Greatest Mysteries (S1, S2)
Man vs. Child Chef Showdown (S2)
Me & Mickey (Shorts) (S1, 7 episodes)
The Owl House (S3, 1 episode)
The Proof Is Out There (S1, S2)
Star Wars: The Bad Batch (S2)
Storage Wars: Barry's Best Buys (S1)
Storage Wars: New York (S1, S2)
Liz & Dick- People Presents: Once Upon a Main Street
The Real MVP: The Wanda Durant Story
Toni Braxton: Unbreak My Heart
Victoria Gotti: My Father's Daughter
Cesar Millan: Better Human Better Dog (S3)
Dian Fossey: Secrets in the Mist (S1)
Marvel's Moon Girl and Devil Dinosaur (S1, 6 episodes)
Star Wars: The Bad Batch (S2)
SuperKitties (S1, 7 episodes)
Inside Airport Lost & Found
Making the Wish: Disney's Newest Cruise Ship
Star Wars: The Bad Batch (S2)
Ultimate Airport Dubai (S1, S2, S3)
Voices Rising: The Music of Wakanda Forever
Tini: The New Life of Violetta