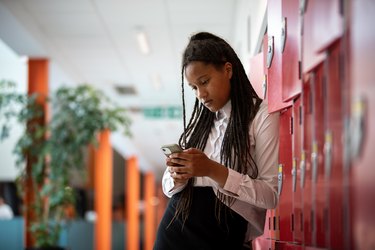 As parents, we're all well aware that teens spend a lot of time on their phones. If they have TikTok, much of that time is probably spent mindlessly scrolling through endless videos of their peers and strangers. To help reduce the amount of time teens are spending on their phones, TikTok has a new feature that'll help them put their phones down.
In the coming weeks, a new feature that limits screen time to 60 minutes a day on TikTok will automatically be applied to the accounts of users under 18. Once the limit has been reached, they'll be prompted to enter a passcode to keep watching, which can be set by a parent. Teens can disable the feature, but if they spend more than 100 minutes a day on TikTok, they'll be prompted to reset the limit. Ultimately, it's a way to help teens self-regulate their screen time.
Teens will also be sent an inbox notification once a week that provides a recap of their screen time, giving them the opportunity to make changes to the recommended screen time if needed.
To determine the best time limit for teens and kids, TikTok worked with academic research and experts from the Digital Wellness Lab at Boston Children's Hospital.
"While there's no collectively-endorsed position on how much screen time is 'too much', or even the impact of screen time more broadly, we recognize that teens typically require extra support as they start to explore the online world independently," said Cormac Keenan, Head of Trust and Safety at TikTok, in a statement.
The new 60 minute time limit will also affect the accounts of kids under 13 who are using the TikTok for Younger Users limited app experience. If the child wants more screen time, a parent or guardian will have to set and enter a passcode to add 30 more minutes once the screen time limit is reached.