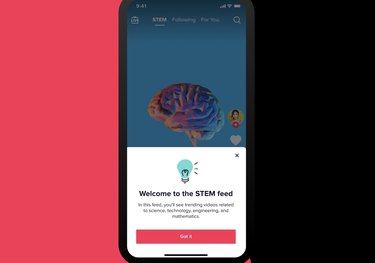 TikTok announced a new STEM feed on Tuesday in honor of Pi Day, giving users the space to explore videos related to science, technology, engineering, and math.
STEM videos are already super popular on the app. In fact, STEM-related hashtags have received over 110 billion views to date. Now it'll be easier to locate STEM content in its own feed next to the Following and For You feeds.
"Whether encouraging aspiring scientists to work out experiments in comments sections or helping a new programmer learn to code, the STEM feed provides a space for co-learning, inspiration, and enrichment," TikTok wrote in a blog post.
Common Sense Networks will help moderate the videos to ensure only high-quality, appropriate STEM-related videos are part of the feed, and Poynter will assess the reliability of the information being presented in the videos. The videos have to pass both checkpoints to be eligible for the STEM feed, aiming to improve the content quality and to provide a safe experience for teens.
"We look forward to supporting TikTok's STEM initiative through this alliance. By leveraging Common Sense Networks' singular expertise in content evaluation, we can ensure that these digital experiences for teens will be valuable, educational, and entertaining," said Eric Berger, Common Sense Networks CEO.