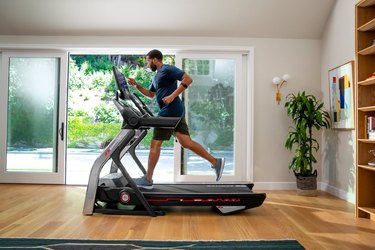 When it comes to treadmills, some of us are runners, some of us are joggers, some of us are power walkers, and some of us are leisurely strollers. However you spend your time on the treadmill, the important question is what are you watching? Sure, you can hit the treadmill and listen to a podcast, music, or the sounds of your kids arguing in another room, or you can sign in to your existing streaming platform (including Netflix, Disney+, Hulu, Prime Video, Max, and YouTube) and watch whatever TV show or movie you want while getting your exercise on. And the best part is, no one will be there to demand that you put something else on, because treadmill time is YOUR time.
The Bowflex Treadmill 22 offers a cardio experience that's similar to the Peloton Tread but a lot less expensive ($1,000 less, to be exact). The attached, adjustable 22-inch HD touchscreen provides entertainment, coaching, and the motivation that's often needed to keep going.
All the fun entertainment and coaching features require a JRNY membership at $11.99 a month or $99 a year. The membership offers hundreds of stunning virtual courses to run through, personalized workouts that adapt as your fitness improves, trainer-led classes and videos, real-time motion tracking through your phone or tablet's camera, and of course, streaming entertainment. Unfortunately, without a JRNY membership, you can't use any of the apps.
Other features include Comfort Tech deck cushioning for a softer landing, built-in fan, extended handlebar grips, speeds up to 12 mph, Bluetooth armband, and more.
Not only is the Treadmill 22 a great overall machine, it has a unique SoftDrop folding system that reduces its footprint by more than 40%, which you can take advantage of when the machine isn't in use.