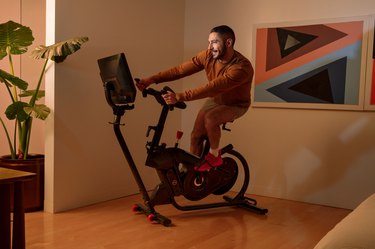 When it comes to indoor cycling, you have plenty of bikes to choose from. Not all indoor bikes are created equal, however. Some bikes are inexpensive and basic, which is great if you just want to be able to get a work out in without all the extras. But if you want a bike that offers a fantastic and unique experience every ride, check out the BowFlex VeloCore.
What are the VeloCore's key features?
While it may look like a Peloton, the VeloCore offers a better experience for those who enjoy the feel of outdoor cycling. The stationary bike has the option for leaning mode where the bike leans left and right as you ride — just as an outdoor bike does. That alone is worth the price.
The bike also comes with 100 magnetic resistance levels, a Bluetooth-enabled heart rate armband, SDP clips for cycling shoes, and a pair of 3-pound dumbbells.
How does the console work?
The VeloCore features a 16 or 22-inch touchscreen console that allows you to be fully entertained while riding. With a BowFlex JRNY membership at $19.99 a month or $149 a year, you get access to thousands of workout possibilities, including trainer-led classes, over 200 stunning virtual courses through the Explore the World feature, and daily personalized adaptive workouts.
You also have access to your favorite streaming services on the console, you just need your login and password to access them. Everyone in your household can create their own profile to keep track of their own workouts.
The VeloCore with a 16-inch console is $1,799 and the 22-inch is $2,199. You can add in-home assembly for $199.
Watch the VeloCore in action: