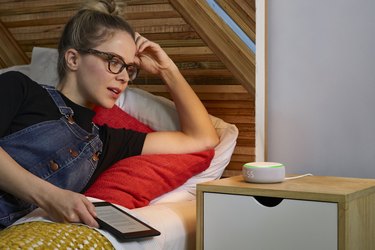 Amazon Prime Day is coming up, which is equal parts exciting and stressful. The official kickoff will begin on Tuesday, July 11 at 3 a.m. ET and run through Wednesday, July 12. Instead of spending the entire two days staring at your computer or phone screen trying to nab deals before they sell out, you can have Alexa do the legwork for you, saving you time and anxiety.
Alexa's advanced deal alerts are available for Prime members in the U.S. on newer Echo smart devices. The feature will notify you when there's a deal on an item in your Shopping Cart, Wish List, or in your Saved for Later queue. The notification will be announced up to 24 hours before the deal becomes available. To make things even easier, you can have Alexa automatically buy the item for you when the discount goes live.
How to set up Alexa's advanced deal alerts
Using Alexa's mobile app, go to More > Settings > Notifications > Amazon Shopping.
Tap Shopping Recommendations and select Deal Recommendations.
Find the products you'd like to purchase and add them to your Wish List, Shopping Cart, or in your Saved for Later queue. This can be done either on the Amazon app or website.
When there's an upcoming deal on a product you're interested in, a pop-up alert or yellow ring light will appear on your Echo device. You can hear about it by asking, "Alexa, what are my notifications?" From there, you can ask Alexa to order the item when the deal goes live by saying, "Alexa, buy it for me." You can also choose to have Alexa remind you about the deal when it goes live.
The purchase will be made using the default payment and delivery address you have set up in your Amazon account, so make sure that's up to date before July 11.