If you live in California, Oregon, or Washington, you've probably felt your fair share of earthquakes. While there isn't a way to fully prepare for an upcoming earthquake, the MyShake app can provide early warnings so you know that one is imminent.
The warnings are provided for significant earthquakes of 4.5 magnitude or greater in California, Oregon, and Washington. As for how much warning you'll get — that depends on your distance from the epicenter. If you're close, you might only have one second of warning, but if you're further away, you could get a full minute before you feel the shaking.
The alerts only go out to the people the app's seismology team at the University of California, Berkeley expects will feel the shaking. So, if you receive an alert, the app will advise you to drop, cover, and hold on.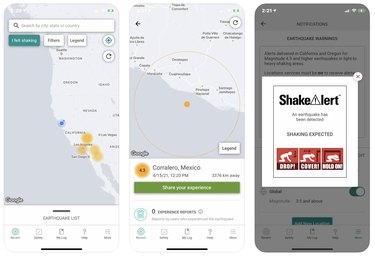 The purpose of the early warnings are to give people as much time as possible to protect themselves by taking cover, lowering their chances of being injured by falling objects. Every second counts when it comes to earthquake warnings.