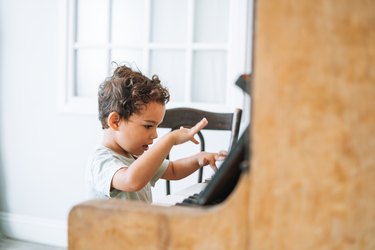 In-person piano lessons at a music studio and private lessons at home can be pretty pricey, so if they aren't in your budget, a great way to learn to play piano is via the internet.
Whether you want to your kids to learn how to play piano, or it's an instrument you want to learn for yourself, there are plenty of virtual lessons to choose from — any many of them are free. Of course, you'll need a piano or a keyboard to get started.
I did the research on several virtual beginner piano lessons for kids and tested them out two of the most promising ones with my 6-year-0ld daughter. Check them out below.
Mr. Henry's Music World: Beginner Piano Lessons
Mr. Henry uses fun graphics and songs to teach kids the basics of piano. He has lots of videos full of different tutorials, including teaching kids the musical alphabet, how to set up their hands on the piano, and how a piano actually works.
If you like what you see, you can sign up for a free 6-week mini-piano course for kids ages 6 to 10. There's also a course for kids ages 11 and up (that includes grown ups), which is $47 a month with a 7-day free trial.
I signed up for the free 6-week class. My daughter tried the first class, and while she learned some things, she did feel like it was a little hard. She doesn't, however, have any musical instrument experience, and new things can feel hard for anyone.
My Music Workshop: Easy Piano Lessons For Kids
My Music Workshop's lessons are set up to teach kids the basics of piano in just a few minutes. They'll learn the names of keys, how to use each hand to play, how to play notes and songs, and more. The easy-to-follow lessons are designed for kids ages 4 to 12, and it isn't just piano they can learn, lessons are also offered for drums and ukulele.
While there are many free lessons to watch on the YouTube channel, you can also sign up for a 7-day free trial and then pay $15.99 a month for access to over 700 on-demand lessons for all the instruments.
My daughter enjoyed this class. She liked the teacher's energy, and the animations and practices were helpful for her.