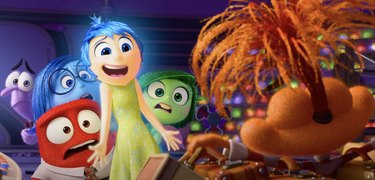 Pixar just released the first trailer for "Inside Out 2," the sequel to the 2015 coming-of-age original about an 11-year-old girl named Riley whose personified emotions controlled her thoughts and actions throughout her life. Each of her emotions had a role (a star-studded one at that). There was Joy (Amy Poehler), Sadness (Phyllis Smith), Disgust (Mindy Kaling), Fear (Bill Hader), and Anger (Lewis Black).
The "Inside Out 2" trailer introduces a new teenage emotion: Anxiety. Ozzy Osbourne's 1980 song "Crazy Train" plays as a wrecking crew of blue, purple, and green emotions show up for demo day to destroy Riley's mind. Afterwards, the emotions find that their console has turned orange and Anxiety (Maya Hawke) has arrived.
"Inside Out 2" will hit theaters on June 14, 2024.