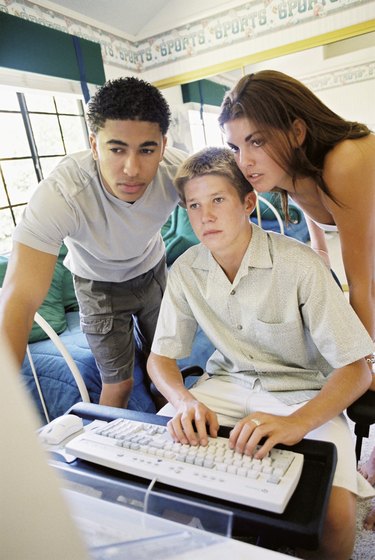 The "invite your friends" feature can be found on almost any social network or app, since the combination of your circle of friends and your personal endorsement can go much farther than any advertising campaign can. A related feature – "import your friends" – is another way to increase your presence and connect with others you know who are already part of the same network. LinkedIn, for instance, makes it easy to check if your email contacts are fellow members. You can also connect your Facebook contacts, but this is a more complex process.
Step 1
Check manually if a specific Facebook friend is already a member of LinkedIn by typing the person's name in the LinkedIn search box. You can click "Connect" or "Send InMail," which sends a note to your friend's registered email address via LinkedIn. This process works well for a handful of specific contacts, but it may be time-consuming to do this for dozens or hundreds of Facebook contacts.
Step 2
Create a free Yahoo Mail account, which is a workaround tactic suggested by Digital Marketing Department, a nonprofit marketing/social networking strategy blog. This step is necessary because LinkedIn doesn't allow you to directly import Facebook contacts.
Step 3
Import your Facebook contacts into your Yahoo account, which can be found under the "Contacts: Popular Tools" heading. You'll be prompted to give permission for this transfer.
Step 4
Export your Yahoo contacts by going to "Contacts | Actions | Export All" and choosing Outlook, which will create a CSV file you can save.
Step 5
Import these items into LinkedIn. Go to "Add Connections," choose "Any Email" followed by "Upload Contacts," then browse your computer to find the CSV file you created in the previous step and upload it.