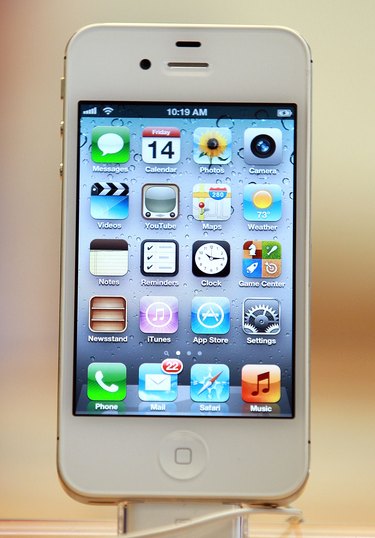 With a webcam, smartphone or a video camera small enough to fit in your pocket, you can quickly produce digital shorts for work, friends and family, or to post to the Web. Capturing video is easier than ever, and a wide range of tools like Camtasia and iMovie are available to help you perfect your final clip. While these products have many of the same features, Camtasia and iMovie actually have very distinct purposes that may make one a better choice for your project.
Purpose
Camtasia software helps you create screencasts for teaching, demonstration and educational purposes. Camtasia captures screen shots from your computer or webcam, then gives you the tools to compile them and add audio, music, video and other effects. Apple's iMovie is a video-editing program that helps you create polished clips for a wide variety of personal and professional purposes. IMovie can also incorporate audio, music and special effects, but it does not capture screen shots. You can however, import your finished Camtasia file into iMovie.
Availability and Accessibility
As of the date of publication, Camtasia is available for Windows and Macintosh-based computers for just under $300. IMovie is only available to Macintosh users. The software comes bundled as part of Apple's iLife for less than $80. IMovie can be installed on Macintosh computers as well as the iPhone, iPad and iPhone touch. Any iMovie you create is exported as a MOV or Quicktime file, another Apple product. Camtasia files have greater compatibility, and can be exported as MOV files as well as MP4, FLV, SWF, M4V, MP3, AVI and animated GIF files.
Camtasia Features
With Camtasia you can capture your entire screen or just a window or region. Once your shots are compiled, you can edit, cut and splice, and add your voice or another audio track as narration. You can also import music, photos, videos and animations. To help your audience through your presentation or demonstration, Camtasia includes call outs, cursor effects, transitions and captioning. For your finished product, you can add a table of contents as well as a quiz feature to assess how well your audience understood your instructions. Once complete, Camtasia clips can be shared via YouTube, your website or blog.
iMovie Features
IMovie contains a host of features and functions for video editing. Once you have your video recorded and imported, you simply drag-and-drop clips to make your final movie. IMovie also includes special effects you can add, like instant replay and jump cuts, as well as different themes and transitions. Since you are working more closely with video in iMovie, you have the ability to edit more precisely and tweak settings like brightness and contrast. Like Camtasia, iMove allows you to add music, titles, narration and music.