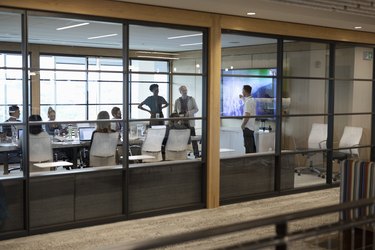 The PowerPoint application is part of the Microsoft Office suite of productivity tools. The software allows you to create professional looking slideshows for all types of communication, from informal office meetings to large auditorium-sized presentations. PowerPoint can also be used to create newsletters, calendars, photo albums or for any project that involves the presentation of text or images. Microsoft provides a rich set of PowerPoint functions as well as free templates and themes to help users effectively communicate their ideas.
Importance of PowerPoint
Since its first release by Microsoft in 1987, PowerPoint has become a standard for business and classroom slideshows. Although other applications are available that perform similar functions, such as Prezi and Visme, PowerPoint has the advantage of being an integrated part of the Microsoft Office application suite. Users of other Office applications like Word and Excel are accustomed to the interaction style found in PowerPoint and like the ease with which they can move between PowerPoint and other applications.
PowerPoint Slideshow Creation Features
PowerPoint provides a wide range of powerful features for slideshow creation. Predefined templates let you start with specific design elements that match the purpose of your slideshow. Templates also provide an overall design theme that enforces a consistent look for every slide. You can add formatted text to slides, including bulleted lists, as well as geometric shapes like lines, arrows and stars. You can import illustrations and photos as well as video. Tools for creating diagrams, graphs and charts are also available.
The special effects features of MS PowerPoint let you add dynamic interest to slideshows. Animation can be applied to text, images and graphics to make them appear, disappear, change color and move across a slide. Music and audio can be added to hold the audience's attention. You can also insert predefined transitions like cut, swipe and dissolve to punch up the transition between slides in a presentation. In PowerPoint 2019 for Windows, you can insert a 3D image and then dynamically rotate it in 3D space to view all angles.
PowerPoint Presentation Features
After a slideshow is created, it can be run as a slideshow during a presentation. Microsoft supports slideshow presenters with features like slide notes that are only seen by the presenter while a slideshow is playing. The Presenter View feature lets the presenter view the slideshow with notes on a laptop or computer monitor while the audience sees only the slides. The Recording feature allows you to record a slideshow presentation with audio for later playback.
PowerPoint Collaboration Features
Microsoft has added collaboration features to PowerPoint that make it easier for teams of people to co-author a slideshow or add comments to a teammate's presentation. Since Microsoft Office is now available on a variety of devices, from smartphones and tablets to laptops and desktop computers, you can save slideshows to the cloud so they can be accessed by multiple people from different types of devices. In newer versions of PowerPoint, changes made by different authors are merged automatically.
PowerPoint Online vs. PowerPoint Application
Office Online is a free version of the Office suite of applications. Unlike previous versions of Office that ran as installed applications on laptops and computers, PowerPoint Online and other Office Online applications run within a web browser. This makes it easier to create, modify and view slideshows from any device that's connected to the internet.
Some PowerPoint features behave differently in PowerPoint Online. A limited number of themes are available to apply to new slideshows. You can add text and images, though some formatting options aren't available. Fewer types of animations and transitions are provided. You can run slideshows and show or hide Speaker Notes with PowerPoint Online, but the Presenter View is not available. Charts are also not supported in the online version.