Now that the temps outdoors are reaching the lowest ebb of the year, families are spending more time indoors. Your kids might even be tiring of their phones and tablets (if you ever dreamed that possible!) as the colder weather lingers on. There are apps around, though, that can zap away boredom by teaching new DIY skills in cool real world crafts and hobbies.
Beyond giving kids a sense of accomplishment, learning these skills also hones abilities in manual dexterity, following directions, and attention to detail. Once your kids complete their creations, they can display the work in their rooms, take photos for sharing on social media, or give what they've made to friends or family members. Here are six apps to get you started.
TutoTod
While the other apps on this list are mostly for folks six and up, TutoTod directly targets the one-to-five-year-old set. If you have preschoolers at home, this can act as a marvelous introduction to real world crafts and hobbies.
Through a set of colorful and lively, pre-schooler-friendly screens, TutoTod provides 140 different lessons for you and your child to do in making toys, whether that's a car, picture frame, or flower bouquet.
You can produce all of these with six basic materials you probably already have at home: paper; scissors; a roll of toilet paper; markers; twine, and glue.
TutoTod is free, though it's available for iOS only. Party packages are available as in-app purchases. So are packages for special occasions like Christmas, Easter, and Halloween.
How To Make Paper Airplanes
What school-age child hasn't already built (and flown) at least a few paper airplanes? What you might not realize is the stunning variety of paper airplane plans out there.
With this app in hand, your kid can be the envy of the neighborhood. Animations and step-by-step instructions teach how to fold paper into dozens of different airplane models, including the Concorde jet, F-16 Fighting Falcon military plane, a rotocopter, and gliders. Some models are stationary, but lots really fly.
Materials are cheap and cleanup is minimal. All you need is some sheets of paper. Just think! You might get out of buying a costly drone for your family.
How To Make Origami
You can think of paper airplane folding as first step into the Japanese art of origami, in which paper can be folded to form all kinds of interesting thingies.
Also available for both iOS and Android, How To Make Origami teaches how to create origami in categories that include birds, boats, flowers, boxes, and more.
In the birds category alone, you can get directions to handcraft a swan, penguin, crane, egg-laying hen, Mandarin duck, crow, and pigeon. (Unlike the planes, however, none of these birds will fly!)
The app is free, but the directions for some of the thingies are in-app purchases.
Knots Guide
If you have an old-fashioned dad, you might already know this, but believe it or not, there are hundreds of different types of knots in the world. Your kids might have learned some of these at camp, but certainly not all of them.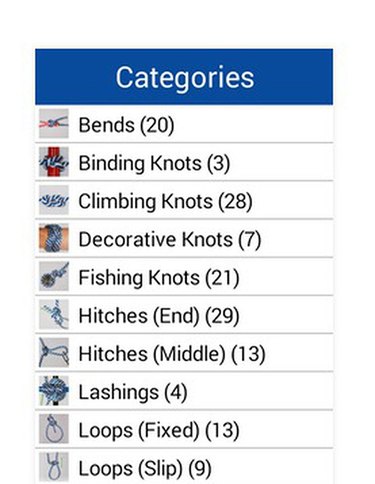 This app uses step-by-step color illustrations to show how to produce 94 kinds of knots. You'll see decorative knots for display around the house, in addition to knots for climbing, fishing, hitching, and lots of other real world purposes. (Any tree climbers in the family? Rock climbers?)
From A to Z, the knots range from the Albright Knot to the Zeppelin Loop. The app includes a zoom feature for getting close-up views of the various knots.
DIY Macrame
In case you're unfamiliar with macrame, it's the art of tying cordage into knots to form decorative and/or useful shapes. Initially popular during the 1970s, macrame is now seeing a revival. We attribute that to Pinterest.
DIY Macrame instructs you in how to use macrame to make intriguing-looking wall hangings, hanging pots, jewelry, sandals, clothing, and more.
The app is free, but unfortunately, it's for Android only.
Craftsy
If you look around the online app stores, you'll come across apps for all sorts of other crafts. However, many of these apps will prove too difficult for kids who are just getting started.
Craftsy is a very handy "go to" place for picking up beginning to advanced skills in lots of crafts and hobbies not addressed by the other apps listed here.
To name just a few of the crafts covered in Craftsy, you can learn barrels about woodworking, drawing, digital photography, painting, embroidery, crotchet, knitting, sewing, and cooking.
This free app, offered for both iOS and Android, includes lots of free classes, although many of those are on the advanced side, too. Additionally, you can download tons of full tutorials as in-app purchases, including tutorials on basic skills in woodworking, photography, crochet, and sewing, for example.
The full tutorials are pricey, weighing in at $15 to $50 each, but long-time fans swear by them. The paid downloads are life-time purchases, too. Anyone in the family can access the tutorials whenever it's convenient.
With apps like these in hand, your kids will be too busy creating cool real life stuff to get the indoor fidgets!