While your smartphone can typically access a variety of media files on your laptop, it can be tricky to get things moving in the opposite direction -- especially if your aim is to share the smaller device's screen in full. Wireless streaming functionality is a feature built-in to most mobile devices running the iOS, Android and Windows Phone platform. A third-party app is then needed on your computer -- and as long as both devices are connected to the same Wi-Fi network, you can mirror your mobile device on the laptop's screen.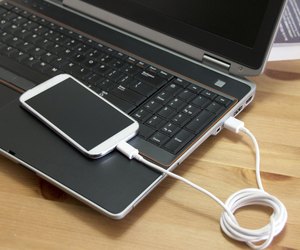 credit: Hailshadow/iStock/Getty Images
Screen Sharing Over AirPlay
Apple's iPhone uses a technology called AirPlay to stream files -- as well as mirror the screen -- between two enabled devices. The feature remains enabled on your iPhone all the time, but it is only accessible when the smartphone locates a nearby Airplay-enabled device with which it can share content. To determine if one is nearby -- or to begin sharing your screen once your laptop is ready to do so -- simply swipe up from the bottom of your iPhone screen and tap "AirPlay," and then select the name of your laptop and tap "Mirroring."
Screen Sharing Over MiraCast
Android devices, on the other hand, rely on a technology called Miracast for media file streaming. While the actual enabling of the feature differs based on the model, the feature can typically be accessed from within the phone's main Settings menu. On a Samsung device, for example, you'll use the "Connections" section and enable "Screen Mirroring." A Nexus device owner, on the other hand, will look in the "Display" section for the "Cast Screen" option. In any case, Miracast will allow you to stream video -- or your smartphone screen -- to your laptop in full 1080p resolution.
Software Options
You'll need to decide what software to install on your laptop in order to enable it as a receiver for screen sharing from your smartphone. Well-reviewed options like AirServer and Reflector are available for both PC and Mac and can accept Miracast or AirPlay signals. For an Android-only option, BBQScreen will facilitates a signal between your smartphone and laptop as well (links in Resources).
Things to Consider
Screen sharing is a fantastic way to demonstrate smartphone functionality on a larger screen or to record these demonstrations for use in Web tutorials. It's also a great way to put small-screen gaming on a larger scale or to share video chat sessions with larger groups. Once both devices are enabled, screen sharing should function seamlessly and automatically with no effort from you. You'll continue to control things -- for example, modify the volume, play games or initiate video playback -- using your smartphone's touch screen.