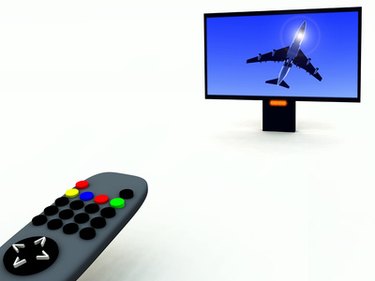 When you first pull your new LG television out of the box and power it on, you will notice it is in demo mode. This mode is designed for stores to easily showcase the perks of the LG television. When using the set at home you obviously don't want the TV to function in demo mode, so it's important to adjust the programming of the television. Thankfully you can do this with just a few clicks of your LG remote control.
Step 1
Power on the LG television and wait for the load menu to appear on the screen.
Step 2
Select "Home" when asked if the LG television is for home or display use.
Step 3
Connect the cable/satellite receiver (or TV antenna) to the LG television. If using a SD receiver plug RCA cables into the "Video Out" port on the receiver, then plug the other ends into the "Video In" port on the LG television. If using an HD receiver, plug an HDMI cable into the "HDMI" port, then plug the other end of the cable into the "HDMI" port on the TV.
Step 4
Select "Scan for channels" when the LG television asks what you want to do. The TV now scans all of the available channels you receive and programs it into the memory of the television.