Time Warner Cable is one of the leading cable TV providers in the U.S., with more than 23 million subscribers in 27 states. One of the features their digital cable service offers is Movies On Demand, which allows customers to view selected movies and other programs whenever they choose. For the hearing impaired, closed-captioning subtitles are available with many On Demand selections. Activating them is a simple process, with the right equipment and connections.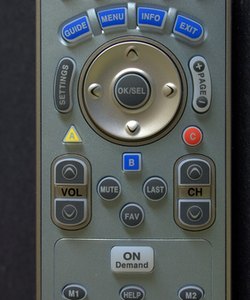 Using Explorer Receiver Boxes
Step
Press "Settings" on the Time Warner remote control to access the subtitles through the receiver box. Time Warner uses different makes and models of receiver boxes in different areas. Some may have different steps for turning the closed-captioning on and off, but the option should be there.
Step
Look for the "Closed Captioning" sub-menu. It may be in the first "Quick Settings" menu, but with some models you may have to press "Settings" twice to reach the "General Settings" menu.
Step
Press the Up/Down arrow keys until "Closed Captioning" or "Closed Captioning: Source" is highlighted (depending on the model), and press "Select."
Step
Press the Up/Down arrow keys until "On" is highlighted and press "Select" again.
Step
Press "Exit" to exit the menu and return the picture to the full screen. The closed-captioning subtitles will appear on the screen, when available.
Step
Follow the prompts of the on-screen guide to select and begin viewing the On Demand movie. Repeat the steps if the subtitles do not appear, but remember that closed-captioning depends on the individual selection and is not available with every movie or show---nothing in the settings can make them appear if they are not offered.
Using Pace Receiver Boxes
Step
Press the "Display" button on the front panel. Using the remote control will not work with this particular brand.
Step
Press "CH+" until "CC" is displayed, then press "+" to display "CC On." If that setting is currently turned on, the "HDTV" logo will be lit up on the display.
Step
To activate, press "+" again to save the setting, and then press "Exit."
Step
See Step 6 under Section 1 to continue.
Using Motorola Boxes
Step
Use the component video cables (or DVI) to connect the receiver box to the TV. Press "Menu" on the front panel of the receiver box, with the TV on but the box turned off. The display menu will appear.
Step
Use the Up/Down arrow keys on either the front panel or the remote control until "Closed Caption" is highlighted.
Step
Press the right arrow key to change the setting from "Disabled" to "Enabled", then press either the "Power" or "Menu" button to exit the main menu.
Step
See Step 6 under Section 1 to continue.