Scanning your receipts into QuickBooks allows you to add more detailed information to the transactions you enter. You can also cut down on paper waste and reduce the clutter in your office by storing receipts electronically. The exact process for scanning a document depends on the type of scanner you own, so consult your owner's manual for any specific questions you may have.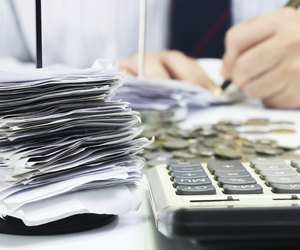 credit: patpitchaya/iStock/Getty Images
Step
Install your scanner according to the manufacturer's instructions. You may also have to install driver software to control the scanner from your computer.
Step
Input the details of your transaction into QuickBooks as you normally would. The receipt must be saved as an attachment to this transaction. You can attach receipts to invoices, customer deposits, bill payments, credit card charges and most other income and expense transactions.
Step
Click "Attach" to bring up the scan settings configuration window. Depending on the type of scanner you are using, you will see selections for various formatting options and paper sizes. Select "Receipt" from the list of document types and set the other options to fit your needs and the size of the receipt. You can also choose whether to scan both sides of the receipt or only one side.
Step
Press "Scan Now" when you are finished setting up the scan configuration. Your scanner will save the receipt into QuickBooks according to the configuration settings you choose. You can also instruct the scanner to save a copy of the receipt in another location in addition to QuickBooks. When the scan finishes, you will see an icon that looks like a piece of paper to indicate that the transaction contains an attached document.