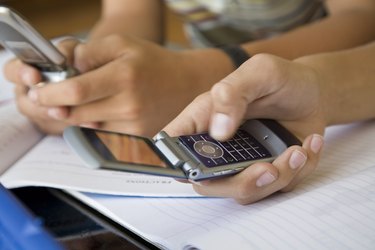 If you want to restore your Motorola phone to factory settings or merely erase your personal data, you can do so in a matter of minutes. Most Motorola phones allows the user to perform a "master clear," which erases all the data you have entered on the phone. Some Motorola phones do not have the "master clear" function, but there is another way you can wipe the data. Make sure that you want to erase everything, because a master clear cannot be undone.
Master Clear
Step 1
Power on your Motorola phone and hit the "Menu" button.
Step 2
Choose "Settings" from the menu.
Step 3
Click on "Initial Setup."
Step 5
Type in your security code. If you haven't changed it, the default is "000000."
Step 6
Choose "Yes" when it asks you if you want to "Clear All Phone Data."
Alternate Method
Step 1
Power on your Motorola phone and click the "Menu" button.
Step 4
Type in your four-digit passcode. The default code is either 1234, the last four digits of your phone number, or 0000. Click "Done" when finished.
Step 5
Click on "Restore Phone" and hit "Yes" when it asks if you want to permanently erase all data.
Tip
Make sure you back up your data before you perform a Master Clear if you want to retain some of your files.