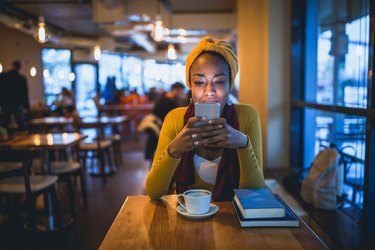 In the world of prepaid cellphones, Tracfone is a leader. You won't have to sign a contract or make any long-term commitment, paying one low rate for a month of service. To activate one of these phones, you can use the Tracfone website or call the Tracfone customer service number and request it be activated for you.
Tracfone Activation Using Phone
You can't activate your Tracfone from the phone itself. Tracfone encourages customers to do the activation on its website. However, if you don't have internet access or simply prefer to do the activation by phone, there's a Tracfone customer service number specifically for that purpose.
To activate your new phone or phone card, have the item available and call the Tracfone customer service number at 800-867-7183. During this process, you'll need to give the serial number or SIM card number of the item you're activating. If you aren't transferring a number, you'll be given a new number for your device.
Tracfone Activation Online
For those willing to start with a new phone number, Tracfone activation is fairly easy. You'll purchase the phone, then go to tracfone.com/activation/selectdevice on a computer. You can instead purchase a Tracfone prepaid card and connect it to your existing smartphone, as long as it's compatible with AT&T, T-Mobile or Verizon.
To activate a Tracfone, choose I Have a Tracfone Phone from the activation page, then enter either the serial number or SIM card number on the phone. You'll be prompted to enter your ZIP code and purchase a plan. From there, you can create an account and start setting up your phone.
Exchanging Tracfone Devices
If you already have a Tracfone phone number with an existing phone, you may want to keep that number. This is easiest if the existing number is with Tracfone. Simply go to the Tracfone activation page, where you'll be walked through the process of transferring the number.
As with a new phone, you'll need to first input the serial number or SIM card number on the device you just purchased. You'll then provide the phone number on the old Tracfone to request it be moved to the new one. Next, you're prompted to input the serial number or SIM card number from your old Tracfone, at which point you can start setting up your new phone.
Transferring From Other Service
Tracfone allows some device owners to move, or port, their existing phone number to Tracfone, which then will become your Tracfone phone number. This is slightly more complicated than Tracfone activation if you're starting from scratch or moving from an existing Tracfone. You'll need information on your current service provider, as well as your current phone, to get started.
First, provide your new Tracfone's serial number or SIM card number. You can then input the phone number on the device where it's now active. Tracfone will ask you for some information on your service provider, including details like your account number, your password or PIN or the contact information your provider is likely to have on you. Tracfone will have to move the number over before it will become active on your new phone.
Tracfone SIM Kit
Perhaps the easiest way to use your existing phone and not set up a separate Tracfone phone number is to order a Bring Your Own Phone SIM Kit, available at retailers or for order on Tracfone's website. You can order a kit for a T-Mobile, AT&T or Verizon phone, then use it to move your phone to the new service. Using this kit, you'll be able to keep the phone number you had before.
Once you have the kit, follow the steps to get set up. You can sign up for a plan or bundle with a Tracfone Airtime Card to get talk and data without committing to a set fee for a month. You'll simply use the card until the amount you paid runs out. You can also sign up for auto-refill for a discounted rate.