If you're leaving your current wireless service provider for a new one, like Vodafone, you are going to need a new SIM (Subscriber Identity Module) card for your cell phone. These cards contain all the information your service provider needs to identify you for billing purposes. When you set up your account with Vodafone they will send you a new SIM card. Once activated, it can be transferred to different phones while still keeping your information intact. Fortunately, Vodafone makes the process of activating your SIM card an easy one.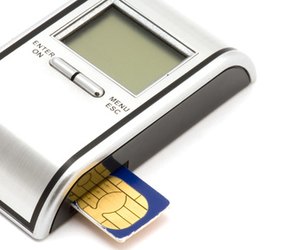 From Your Phone
Step
Turn off your Vodafone and insert the SIM card. Consult your user manual to find out where the SIM card compartment is on your particular model. As a general rule of thumb, most SIM compartments in cell phones are located in the battery compartment in the back of the phone.
Step
Turn your phone on and dial 1300-101-606 from the phone's keypad. Wait until you are connected to a Vodafone representative and explain that you want to activate your SIM card. If it is an automated message, wait for the voice prompts and choose "Activate" from the automated menu.
Step
Follow the voice prompts or wait for the operator to complete the activation process. When they are finished, your SIM card will be activated.
Oonline
Step
Log onto your web browser and navigate to the Vodafone activation page of their website (see the link in Resources below).
Step
Enter your Vodafone telephone number and enquiry password in the text boxes at the bottom of the screen. Your enquiry password is provided by Vodafone upon purchase of your SIM card. Then enter the five-digit alphanumeric security code located just under the last text box.
Step
Make sure your Vodafpne is turned on and the SIM card is inserted. Then click the "Go" tab at the bottom of the screen. After a moment your SIM card will be activated and a confirmation screen will appear.