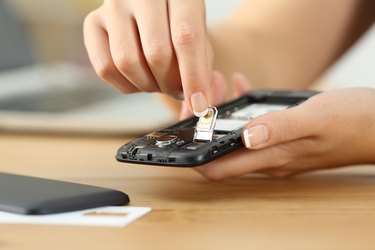 The prepaid Tracfone works off a SIM card system in which you purchase a prepaid plan to activate the phone. Initially, the Tracfone only worked with the company's prepaid plans, and purchasing a plan was the only method of using the phone. However, the Federal Communications Commission and Tracfone entered an agreement in 2016 stating that all new phones have the capability of being unlocked. You should determine the best use for your phone and the type of plan you want before purchasing time or working to unlock the Tracfone for use with another carrier.
Tracfone Plans
Before you unlock the Tracfone, determine if an existing Tracfone plan is a good option for you. You can easily purchase minutes and use the phone on a prepaid plan. To purchase a plan, make sure your SIM card is inserted. If you're an existing customer, you can refill your plan or set up an auto-refill that bills your credit card automatically when you run out of minutes. Purchasing a prepaid plan is easy through the Tracfone portal on the website or directly through your phone.
Unlocking the Phone
The unlocking program opens your phone to use with other service providers. This reduces waste by extending the life of the phone, and it allows for competition from other providers. You can continue on a prepaid program with Tracfone, select another prepaid provider, or enter a contract with another provider while using the phone. To unlock the phone, visit the Tracfone Unlocking Policy web page. This web page is dedicated entirely to verifying the phone's eligibility to be unlocked. Enter the phone number or the serial number into the web page, and it determines the phone's eligibility. Phones made after 2016 are easy to unlock, but phones made before 2016 are often difficult or impossible to unlock. The web page informs you whether the phone is eligible for a replacement. If your phone is eligible and you want to unlock your phone, call Tracfone customer service for an unlock code. Replace the Tracfone SIM card with your own SIM card while the phone is turned off. Turn on the phone and enter the unlock code to unlock the phone.
Replacing the Phone
Some phones will not unlock. Older models are especially prone to being in a permanently locked state. Contact Tracfone customer service if your phone is not eligible to be unlocked. You may qualify for a replacement phone. Tracfone does not send you a new phone, but it sends a credit voucher with a replacement amount, which you apply toward a new Tracfone that will unlock.