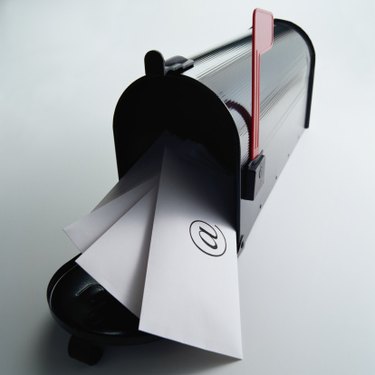 Microsoft Outlook is the communication application that comes bundled with the Microsoft Office Suite. In addition to calendar and RSS feed support, Microsoft also supports various email protocols including POP3, IMAP and some web mail services. Outlook can support importing email from multiple email accounts on one profile. Multiple email support can be set up in the Account Settings options on Outlook.
Step 1
Open Outlook and navigate to "Tools" - "Account Settings" and choose "Add New E-mail Account," which will take you to the setup screen.
Step 2
Choose to set up your email account automatically. Outlook will attempt to set up your email account based on your email address. Enter your name, email address and password in the spaces provided and click "Next" to continue. Outlook will attempt to contact your email server and configure your account. If it is successful, you can click "Finish" and begin downloading messages to your Outlook mailbox. If it is not successful, check your credentials and try again.
Step 3
Configure your account manually. Manual configuration may be required if automatic setup fails or if you prefer to enter your information yourself. Enter your name, email address and password in the spaces provided. Check the "Configure server settings and additional server types" checkbox, and click "Next" to continue. This will bring you to a configuration page where you can enter your server credentials. Choose the "Internet e-mail" for POP3, IMAP or HTTP webmail accounts, "Microsoft Exchange for Exchange servers, or "Other" for another type of e-mail server. Click next to continue to the next window, which will allow you to enter your user credentials. User information includes your name, e-mail address and server information such as the account type, e-mail incoming mail server outgoing mail server and log information which includes your username and password.
Tip
All email is routed into the Inbox of your Personal Folders by default.
Choosing to set up your account automatically is a good option if you do not know your account settings and are using a well known e-mail service provider like Gmail or Hotmail. Manual account set up is the best option if you are a more advanced user, have your mail server information or know that your mail server uses non-default ports.
If you are unsure of your account settings, contact your email provider for more information. Most Internet Service Providers (ISP) and email services like Gmail and Hotmail include support information that can help you determine your email settings.