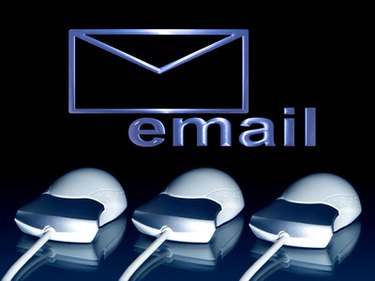 Many people often have different email accounts for different purposes. You might have an email account for your family contacts, for work, for your band or a variety of other reasons. This approach to email is useful because it allows you to separate the different areas of your life into more manageable parts. If you are using several email addresses, logging into several websites to check your email can become a hassle. AOL Mail allows you to merge your alternate email address directly into AOL Mail.
Step 1
Log in to AOL Mail. Go to the AOL Mail login page and enter your login name and password.
Step 2
Open your mail account settings. At the top of your AOL Mail homepage, there is a menu option labeled "Settings." Click on the Settings menu and then choose the option labeled "Mail accounts."
Step 3
Click "Add" in the Mail Accounts section. When you open the Mail Accounts section, you will see a button labeled "Add." Click the "Add" button.
Step 4
Enter your alternate email information. Clicking the "Add" button will open a window asking for your alternate email information. Fill in all of the information boxes, including your alternate email address, the display name you'd like for that email address, the incoming and outgoing mail sever addresses, and the login and password for that email address. AOL Mail asks for the login and password that belongs to the email address you are trying to add in order to verify that you are the owner of that email address.
Step 5
Click "Save" and return to the AOL Mail homepage. Clicking "Save" will merge your alternate emails to your AOL mail. Return to your AOL Mail homepage. You should now see new inbox folders that are labeled accordingly for your newly merged email accounts.