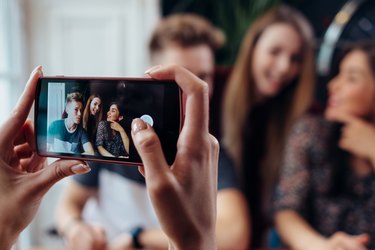 Adding text and captions to pictures in an iPhone is easy and a variety of methods will work. You can add a plain text caption or spice things up with custom colors, fonts and captions integrated into different positions on the photo. Your built-in photo editor will add captions, and a large number of third-party apps offer more robust photo-editing options for caption creation.
iPhone Markup Photo
IPhones come with the Photos app to manage, store and organize all your photos. Within the Photos app, you can use the markup tool for editing and adding captions to photos along with custom text and designs. Simply open your Photos app and select the specific image you want to edit. Select "Edit" to add custom text to your photo and tap the "More" icon. Select "Markup" and then tap the "Plus" sign to add a caption to the photo in a plain text format. After selecting the option, type the text to caption the photo. You can position the text box wherever you want it on the photo and adjust the size, font and alignment to meet your needs. You also have options for pencil, pen and highlighter that you can use to draw shapes or scribble captions for a custom design.
Third-Party Apps
Numerous third-party photo label apps are designed to work on the iOS platform. Many third-party apps are ideal for advanced iPhone photography, and they offer custom filters and editing tools that extend well beyond basic captions and adjustments. Take your time and shop around to find the best app for your specific needs as they all offer something different. Some are free, and others are paid, but they are worth the price if custom captioning is a regular occurrence on your iPhone.
Photoshop Express Captions
While the photo-editing market is robust in the App Store, Adobe Photoshop Express offers a free solution based on the Adobe Photoshop platform. Photoshop is the gold standard for editing programs, and the free iOS and Android editing app is a basic version designed for the needs of mobile users. Open a photo in the app and look for the "T" on the bottom menu bar. Select this option, and a menu of caption box options appears with a range of styles. Choose your favorite style and enter the text to customize the photo. The caption options in this app are clean and look professional.