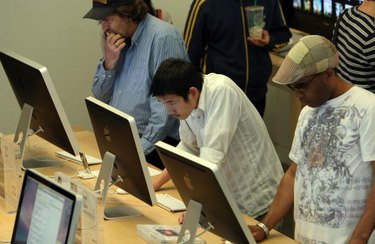 When you want to send an email message to someone using the free Mail application, which Apple installs on every Mac, you can select the address of your recipient from the Address Book instead of typing in your recipient's address each time. Address Book works with Mail and the iCal calendar application. Type in an address directly into the Address Book to add a contact, or use Mail to automatically copy an address from an incoming email message into the Address Book.
Step 1
Click the "Mail" icon in the Dock on your Mac to launch the native email application. The icon looks like a postage stamp.
Step 2
Click an email message in the Mail window to select it.
Step 3
Click "Message" from the Mail menu, and then click "Add Sender to Address Book." The sender's name and email address copies to your Address Book.
Step 4
Click the "Address Book" icon in the Dock. The icon looks like a light brown book with the "@" sign on its cover.
Step 5
Click the plus sign at the bottom of the Address Book window under the "Name" column when you want to create a new contact from scratch. A new blank contact appears. Type the name, email address and any other contact information you want in the text fields.
Step 6
Click the red circle in the upper left corner of the Address Book window to close it.