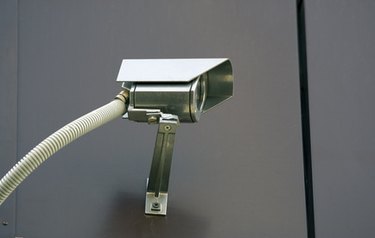 A security camera for indoor or outdoor surveillance connects to a PC with either an Ethernet or USB cable, depending on the model. Security cameras typically come with software on a CD-ROM that must be loaded on the PC so it can process the camera signal. For a direct connection to the computer, the camera should be within the manufacturer's recommended distance to the PC to reduce signal loss and maintain image quality.
Step 1
Load the camera's software CD in your PC's disc tray, close the tray and install the software on the disc by clicking the command buttons as each one appears on the monitor.
Step 2
Connect either an Ethernet or USB cable to the corresponding labeled port on the back edge of your security camera.
Step 3
Insert the connector on the other end of the cable to the appropriate port on your PC.
Step 4
Double-click the icon on your desktop for the camera software to launch the viewer application if it does not start automatically when the PC detects the cable connection to the security camera.