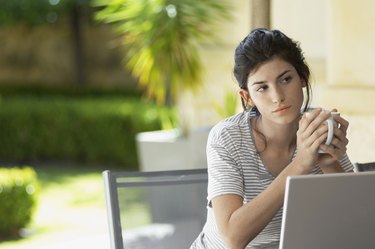 In order to use a JPG image as your computer or laptop screen saver, there is no need to convert the file into any other format. Windows includes a native screen saver that displays any JPG files in the folder that you specify. For the best results, use a JPG image with dimensions that match that of your monitor resolution. For example, if the resolution of your monitor is set to 1366x768, an image that is just 640x480 will look blurry and pixelated when set as the screensaver.
Step 1
Type "Personalization" from the Windows 8.1 Start screen and press "Enter" to display a list of settings that can be adjusted.
Step 2
Select "Change screen saver" from the list of options displayed to open the Screen Saver Settings window. Alternatively, right-click the desktop, select "Personalize" from the context menu and select "Screen Saver."
Step 3
Select "Photos" from the Screen saver drop-down list and then select "Settings."
Step 4
Click "Browse" and then select the folder containing the JPG file that you want to designate as a screen saver image. Windows uses the Pictures folder by default, but you can select any folder on your hard drive. Click "OK" to select the folder and then select "Slow," "Medium" or "Fast" from the slide show speed drop-down list. The slide show speed setting has no effect if only one JPG is used as the screen saver.
Step 5
Click "Save" to commit to the changes and use the JPG files in the selected folder as the screensaver.
Step 6
Click the up or down arrows next to Wait on the Screen Saver Settings window to specify how long your computer must remain inactive before the screensaver is activated and then click "Apply."