When you watch a video on Hulu, a video streaming website, you may find turning on the subtitles, or closed captioning, to be helpful. Closed captions display text transcripts of all the dialog and background sounds in a video, which helps people with hearing loss and auditory processing disorders follow the action of the story without needing to hear the spoken words. Hulu also makes subtitles available in different languages for some videos. You can convert the language and appearance of your Hulu subtitles from your account settings on the site, or within each individual video.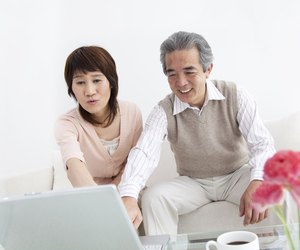 credit: amanaimagesRF/amana images/Getty Images
Changing Subtitle Appearance
Step
Click the "Log In" link in the upper-right corner of the homepage. Enter the email address and password associated with your Hulu account in the pop-up box that appears, then click the green "Log In" button to log in to your account.
Step
Select "Account" from the upper-right menu. The page redirects to a prompt asking you to type your account password a second time. Once you type it in and press "Enter," the page redirects once more to your account settings dashboard.
Step
Click the "Privacy & Settings" tab at the top of the page, then scroll down to the Player Settings section of your settings dashboard.
Step
Check the box next to "Automatically turn on closed captions if available," if you'd like to change your account to automatically include subtitles on each title you watch, instead of manually choosing the option each time.
Step
Change the appearance of your subtitles by clicking the radio button next to the option you prefer in the "Preferred Display" section of the Player Settings. Choose between white or yellow text with a black outline, or white text on a black background.
Step
Click the gray "Save" button in the lower-right corner of the screen to make your changes permanent.
Changing Subtitle Language
Step
Log in to your Hulu account and play the video you want to watch, either from the list of available titles or your queue.
Step
Hover your mouse over the video until the menu bar appears at the bottom of the screen, then hover over the button that says "CC" encased in a box. A pop-up dialogue box appears with all the subtitle options for that particular video.
Step
Click the radio button next to the language you want your subtitles to appear in, or select "Off" to turn them off altogether for that video. You can also change the appearance of the subtitles for the video in the "Caption Style" section.
Step
Check the box next to "Save as My Default" to make your changes your default settings for all the videos you watch on Hulu.