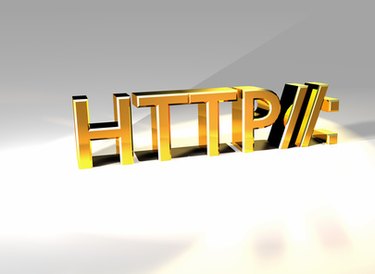 As the Internet has expanded to a world that specializes in distributing media, different avenues have emerged for uploading and downloading music. Among the easiest ways of downloading songs, albums and audio files is by copying and pasting, clicking links and saving files to your computer. Music uploading sites have allowed creators of music to share music with others by offering URL links to the songs. These links can be copied and pasted for direct access to a download link.
Step 1
Search the websites of your favorite artists, fan pages and music websites for song downloads. You will often see the name of a artist and song, followed by a URL link. Popular sites include RapidShare, Megaupload, Hotfile, MediaFire, Sendspace, FileFactory, Supload and Speedy Share.
Step 2
Copy the URL link to your clipboard. You can do this by highlighting the URL with your cursor, right-clicking and selecting "Copy." You can also press "Ctrl" + "C."
Step 3
Paste the URL into the address bar of your web browser and click "Go." You can paste the URL by right-clicking and selecting "Paste." You can also press "Ctrl" + "Z."
Step 4
Click "Download" or the name of the music that you are downloading on the download page, depending on the site. You may be asked to wait 30 or 60 seconds, at which time a clock will count down the time on the page.
Step 5
Click the download link after the spot is free and select "Save As" in the pop-up menu.
Step 6
Select a folder in your computer to save the music and click "Save." The song or album will begin downloading as soon as you click "Save." After it has finished downloading, simply click "Open" to access the file.