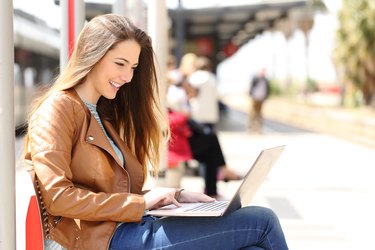 It is important for college students and graduates to have a professional looking email signature. The signature should relate to the academic or professional career that you want to pursue. Having an email signature will also make your email stand out from the rest, especially when they are responding to job ads. Email signatures may differ by each career, but the following guidelines will help you to set up an appropriate personal signature. Using your personal and contact information will help potential employers and schools figure out how to reach you.
Step 1
Sign into an email account with your username and password.
Step 2
Click on "Settings" or "Account," depending on your email provider. It may also have a link called "Account Settings."
Step 3
Enter your email signature in the appropriate fields. Use the following information as a guide to create a personal email signature:
Full name Title/Major School and year of graduation Email address Phone number
It should look similar to this example: Sue Smith A.S. Business Administration Yale University, 2010 smith.sue@yale.edu 555-555-5555
Step 4
Click "Apply" to save your signature. Click "Compose" and look for the signature at the bottom of the text box. Repeat these steps for each of your students.
Tip
Add a link at the bottom of your email signature to your professional website or LinkedIn account where you have your resume. Your phone number should include a professional voicemail message for times when you cannot answer. Otherwise, set up a free voicemail account with Google Voice.
Warning
Your email signature will be seen by everyone you email. Take extreme caution when sending emails.