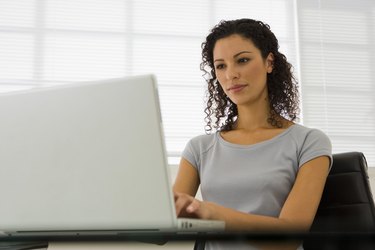 Microsoft Word is a word-processing program that is part of Microsoft's Office suite. In addition to its word processing capabilities, MS Word documents can also feature images such as clip art and photographs. MS Word also includes some basic photo editing options, such as recoloring images to make them appear like photo negatives. The process of creating a photo negative in MS Word is simple and straightforward and requires no experience with Word's image capabilities.
Step 1
Add an image to your document by clicking on the "Insert" menu and pressing the "Picture" button. Select the image file you wish to add and double-click it to add it to your document. You can move and resize your image to incorporate it appropriately on your page.
Step 2
Double-click on the image to access the image editing pane. Click on the "Recolor" button to open the recoloring menu.
Step 3
Scroll down to the "Color Modes" options, and click on the "Negative" option. MS Word will automatically edit the image to make it appear like a negative.
Tip
An emulated photo negative is made by reversing the colors that are present in the image. This means that the image is edited so that red areas become cyan, green areas become magenta and blue areas become yellow.
MS Word does not actually modify the original image file, so the positive-color image file is retained unedited.