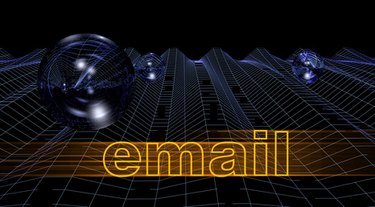 Google's Gmail is a free email service provider. Gmail users typically enjoy enhanced email features such as anti-spam control and a simple-to-use interface. To further simplify its email, Gmail offers other features to make sending emails easier. One of those features is the ability to send an email to multiple recipients without having to enter or select each recipient individually. To access this feature you must set up a group.
Create Email Contact Groups in Gmail
Step 1
Log in to your Gmail account.
Step 2
Select "Contacts" from the left-hand column.
Step 3
Place checkmarks next to every contact that you want to enter into your new contact group.
Step 4
Select the "Groups" button.
Step 5
Choose "New Group" from the Groups drop-down menu.
Step 6
Enter a name for the newly created group in the empty field under "What would you like to name the group?"
Send Your Message to Your Email Contact Group
Step 1
Select "Compose Mail" from the left-hand column.
Step 2
Begin typing the name of your new group in the "To:" field. As you begin to write, Gmail will list groups or names that start with those letters already saved in your contacts. You can then select the group's name from the list provided by Gmail.
Step 3
Write your message in the body of the email.
Step 4
Select the "Send" button.