When maintaining a mailing list, it is always advisable to give the recipients an easy way to opt out of the mailing list at a future date. You should include in every email a link that users can click on so that they can inform you that they no longer wish to receive the emails you are sending them.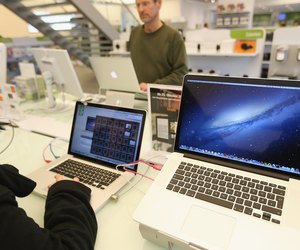 credit: Sean Gallup/Getty Images News/Getty Images
Step
Set up a mechanism for unsubscribing recipients. If the mailing list is personally maintained, this can just be an email sent to you. If the list is maintained by a program, how this is done will depend on the program. You can create a program that automatically receives email and updates the list, or a website that encodes the recipient's email in the URL and uses that to remove them.
Step
Prepare an email template. Each email you send to the list should follow a specific format, so that your unsubscribe link is always in the same place.
Step
Add the unsubscribe link. If you will be maintaining the list, or if a program will update it upon receipt of unsubscribe emails, use the HTML code:
<a href="mailto:youremail@youraddress.com?subject=Unsubscribe>Unsubscribe
If you will be updating the list by setting up a website that adjusts the list of recipients, it will depend on the way your program works. The link should look something like:
Unsubscribe">http://yourwebsite/unsubscribe.php?address=usersemail>Unsubscribe