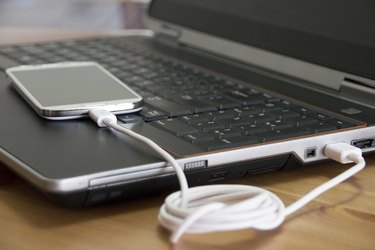 Deleting unwanted or problematic apps from your iPhone helps to free up space and keep your device functioning properly. Delete apps directly on the home screen of iPhones running iOS 8. Deleting an app also deletes all of its associated data, so proceed with caution.
Deleting an App From Your IPhone
To delete an app, return to the iPhone's home screen if it is not already active. Swipe through your apps until you locate the one you want to delete. Press and hold the app's icon until it begins to jiggle. Release the icon and then tap the "X" icon to delete the app. Press the "Home" button to save your changes and return to the Home screen.
Limitations, Consequences and Reinstalling Apps
You can't delete core apps that form part of the iOS 8 operating system. These include apps such as Messages, Mail, Safari, Maps and iBooks.
If you delete an app purchased from the App Store, you can reinstall it on your device at any time for free. Tap the "App Store" icon on the home screen to re-download the app or connect the iPhone to iTunes on your computer and sync the app back to the device.