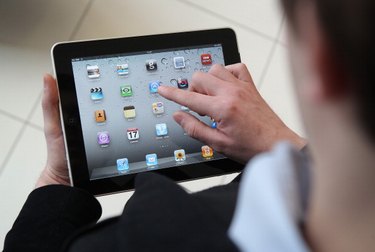 When you delete an app directly on your iPad, chances are that the app is not permanently gone. If you've previously synced your device, then the unwanted app may still be lurking within your iTunes Apps Library, ready to reappear on your iPad the next time you sync. To prevent this, delete your apps from iTunes instead. As a bonus, you will get the option of only temporarily deleting apps that you may want or need to recover later on. Sync your device prior to deleting anything, and then proceed to clean up your apps on iTunes.
Step 1
Launch "iTunes" on your computer. Your screen will present you with an iTunes navigation sidebar on the left and a main pane on the right.
Step 2
Click on "Apps" listed under "Library" toward the top of the sidebar. The main pane will then showcase all of the apps you have downloaded.
Step 3
Select the app or apps you want to delete. Click to select a single app, or press "Ctrl" and click to choose multiple apps.
Step 4
Press "Delete" on your keyboard, or right-click on a highlighted app and choose "Delete."
Step 5
Select "Remove" when iTunes asks you to confirm your intentions in the first pop-up dialog box.
Step 6
Choose "Move to Trash" or "Move to Recycle Bin" in the second pop-up dialog box if you are sure that you will never need or use the unwanted app again. The app will be moved accordingly and completely erased from your computer the next time you empty the trash.
Step 7
Click "Keep Files" instead in the second dialog box for the option to recover a deleted app later on. ITunes will transfer the app into a "Mobile Applications" folder on your computer, where it will stay unless or until you drag it back into your iTunes window.
Step 8
Click on "Apps" listed under "Library" in the sidebar. Browse through your library to confirm that the unwanted apps no longer appear within it.
Tip
Syncing your device on iTunes prior to deleting apps will yield a good backup and create an identical slate of apps on both your device and computer. To sync, connect your device to the computer and then click on its name when it appears under "Devices" in the sidebar. Click the "Apps" tab above the main pane, and activate the "Sync Apps" check box. Then click "Apply" or "Sync" on the lower right. Choose to "Keep Files" rather "Move to Trash" for apps that carry data – such as game scores, settings or files – that you may want to access later on. The option also works well for paid apps that you don't want but may come in handy for another user who shares your apps through Home Sharing. The location of your "Mobile Applications" folder depends on your computer's operating system. Use Windows Explorer on the PC or Finder on the Mac to find it. You cannot delete apps that came preinstalled on your iPad.