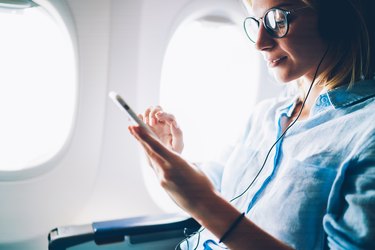 Bollywood is more popular than ever, with India's movies and songs gaining global success. Hindi top songs are available online for free, as long as you know where to find them. The best site to download Hindi MP3 songs depends on your preferences, but you can choose to capture the songs from a site like YouTube, listen to the music through a free streaming app or use a streaming site that lets you also download songs with a paid subscription.
Hindi Songs Download Websites
The internet is the best resource for finding free music. In fact, the best site to download Hindi MP3 songs is one you probably use every day: YouTube. But to translate online music to downloadable MP3 files, you'll need a special app. The good news is, once you have the app, you can download all the songs you want — until you run out of space.
There are plenty of YouTube to MP3 converters, including YTMP3, FLVTO and Converto. With many of these converters, you'll merely need to find the song you want to capture and input the URL into the app's search bar to make it a downloadable file. Unless you know the specific song you want, you'll need to browse various Hindi channels on the site to find the music you want. As you're choosing converters, make sure you verify the integrity of each of them, as this type of activity can be targeted for virus activity.
Hindi Songs Download Apps
Instead of using Hindi songs download websites, you may prefer to stream Hindi top songs free via a streaming app. One of the best apps for this is Wynk Music, available in the Google Play and iTunes stores. Like Pandora and Spotify, Wynk Music is free to listeners who don't mind ads, but you'll have to upgrade to a paid subscription if you want an ad-free experience.
An alternative to streaming apps that specialize in popular songs is SoundCloud, an app that connects you with millions of songs from across the globe. You can not only follow your favorite artists but get recommendations from fellow Hindi music lovers. The challenge with SoundCloud is finding the right Hindi playlists, but once you discover other Hindi fans, you'll be introduced to music you wouldn't otherwise have known existed.
Free MP3 Downloads
The easiest way to get free songs is to find Hindi songs download websites offering the files as MP3s. However, this approach can be risky. It's important to make sure your antivirus software is up to date and check the reputation of any site you find. If you're downloading files, you can easily unknowingly infect your device.
If you want a safe way to access Hindi top songs that you can download to your device, the best site to download Hindi MP3 songs is through a paid subscription service that lets you download. Saavn, Gaana and Hungama each have basic free plans that let you stream music. With a subscription, these services allow you to download songs as MP3s to your device.