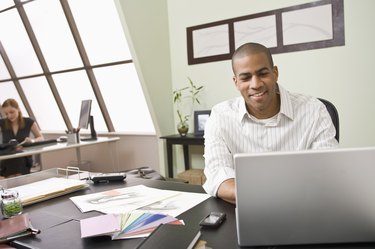 The authorSTREAM website is designed for hosting, converting and displaying PowerPoint presentations. PowerPoint is a slide-show creation tool developed by Microsoft that stores its presentations in the PPT file format. With authorSTREAM you upload a PPT file and then other users can watch it online or download it. authorSTREAM promotes that you can download a slide show in a variety of video formats, but you can also download the PPT file if you want to open it in Microsoft PowerPoint. The author of a presentation will set the permissions to the PPT, so if you cannot download the PPT then the author has disabled original file downloading.
Step 1
Browse to the presentation on authorSTREAM that you want to download. If you know the URL of the presentation, enter it in the address bar of your browser. Alternatively enter a term in the search bar and click "Search" to find a presentation.
Step 2
Click the PowerPoint icon next to "Download" (these icons are just above the presentation). If the icon does not begin your download then you cannot download that file.
Step 3
Find a PowerPoint presentation that you can download. Enter a term in the search bar and click "Go". If the file says "Download" in the information field then you can download the original PowerPoint PPT file.
Step 4
Click "Downloadable" in the "Search by" list to search specifically for files that you can download.