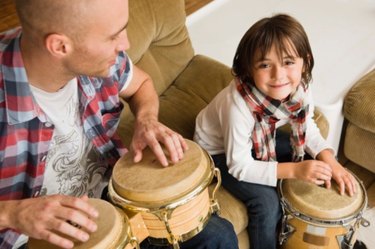 The iPhone has a built-in App Store application that allows you to access Apple's online software outlet directly from the device. Free and paid games and applications are available to download immediately, and are installed automatically as part of the download process. Although some games and applications are only available in specific regions, you can open a regional iTunes account from anywhere in the world to access location-specific products.
Opening An iTunes Account
Step 1
Download and install the latest version of iTunes on your computer, following the installation instructions detailed on the Apple website. Once installation is complete, launch iTunes by clicking its icon on the desktop.
Step 2
Click the "Store" menu at the top of the screen and select "Create Account." Read the terms and conditions and check the "I have read and agree to these terms and conditions" box to continue.
Step 3
Enter a username, password and email address in the relevant boxes, followed by the required security questions and your date of birth. Click the "Continue" button.
Step 4
Select your country of origin as "Japan" from the drop-down menu and enter the code on your iTunes voucher in the "iTunes Gift Cards and Certificates" section. If you are based in Japan, you can enter credit card details instead. Click the "Continue" button
Step 5
Click the "Verify" link in the automatic email sent by Apple to confirm your iTunes account details. The account is now set up and ready to use.
Downloading "Taiko No Tatsujin"
Step 1
Launch the App Store application on your iPhone by tapping its icon on the home screen.
Step 2
Press the "Search" button in the menu across the bottom of the screen.
Step 3
Type "Taiko No Tatsujin" into the text box at the top of the screen and press the "Search" button on the keyboard.
Step 4
Tap the entry for the "Taiko No Tatsujin" game from the search results to open its listing page.
Step 5
Press the button displaying the game's price to begin downloading. Tap the button again when its text changes to "Install" and enter the username and password of your Japanese iTunes account to confirm the download.