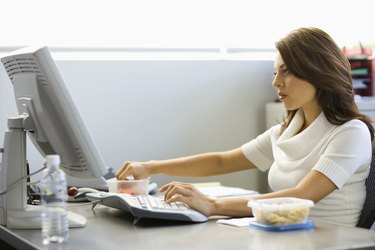 Hyperlinks can point to files, email, websites, images or video when activated. They are convenient additions in Microsoft Word documents because they can direct readers to related, useful content. If you wish to edit the hyperlinks added to a Microsoft Word document, you can use the program's "Find and replace" tool to locate them quickly.
Step 1
Open the Microsoft Word document. Click "Edit" on the navigation bar and select "Find." This opens a "Find and replace" dialog box.
Step 2
Choose the "More" button at the bottom of the box. This expands the box to reveal more options.
Step 3
Click the "Format" button and select "Style." Scroll through the list of styles in the "Find Style" box and select "Hyperlink." Click "OK" to close the box.
Step 4
Select the "Find next" button. The program highlights the first instance of a hyperlink. Repeat this step to see the remaining hyperlinks in the document. The program will alert you with a message when it has finished searching the document.