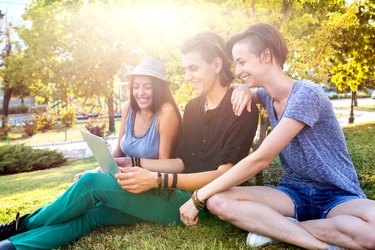 Have you ever wondered who might be searching for your name on the Internet? It is now possible to find out who searches your name with Ziggs.com. Ziggs is a social networking website that allows users to track who is Googling their name. Once you have signed up for a free Ziggs account, Ziggs will send you a search alert email that gives the information of who searched for you on a search engine and when he performed the search.
How to Find Out Who Is Googling Your Name
Step 1
Go to Ziggs.com and click on the "Join Free" option on the Ziggs home page. Fill out the field for the "Basic Information and Location." Click on the "Next" button to continue.
Step 2
Choose a silhouette as your profile picture. Fill out the login information with the email you'd like the notifications to be sent to and create a password. Click on the "Terms of Service" option to read all of Ziggs' legal information, and then check the box for "I Accept Ziggs Terms of Service." Click on the "Next" button to continue.
Step 3
Upload a photo, upload a resume, add your education information or your website to be added to your profile if you want. The sign-up process is now complete, but you must now go to your email to activate your account. Find the activation email sent from Ziggs in your inbox and click on the provided link to activate your account.
Step 4
Click on the "Sign In" button to sign in to your Ziggs account. Your Ziggs page can now be used for social networking as well as finding who is searching for your name. On the right-hand corner of the page you'll see "People That May Interest You." You can also search for people, invite people to join Ziggs and create a group of contacts.
Step 5
Click on the "Search Alerts" option from the Message Center. You will see an interactive map for Ziggs Real-Time Alerts, where as soon as someone searches for your name it will be shown on the map. You can the click on the place and find out where the search came from.
Tip
Ziggs can be a great social networking tool for people who are looking for jobs. You can find out if employers are searching your name and you can make sure that the best information about you goes out to people.