Knowing your Samsung cell phone's serial number may be useful in a handful of situations. The serial number, which might also be listed as the International Mobile Equipment Identity (IMEI) number or Electronic Serial Number (ESN), is a unique number for your particular device. It can be used by your wireless service provider to make changes or upgrades to your device that cannot be made using your online account, as well as deactivate your device if it is stolen. It is not mandatory that you memorize or record your phone's serial number, but it may be wise to make a note of it for future reference. You can find your Samsung phone's serial number very quickly and with little effort.
Step 1
Turn off your cell phone. Press and hold your phone's power button for several seconds until the device shuts off.
Step 2
Remove the battery cover. Firmly slide down the battery cover until the plastic hooks are released from the main housing of your cell phone, then lift the cover off the device.
Step 3
Remove the battery. Gently lift up on your phone's battery and remove it from the main compartment.
Step 4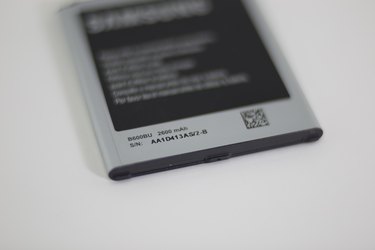 Locate the sticker on the bottom of the battery compartment. This sticker contains your device's serial number (also known as the IMEI or ESN number), along with other information about your phone.
Tip
If your Samsung device runs on a GSM network, such as AT&T Wireless or T-Mobile, you can obtain your serial number by pressing * # 0 6 #. When properly entered, this number sequence should immediately display your Samsung serial number on the phone's screen. Some device models may require you to press the "Send" button before revealing the serial number.