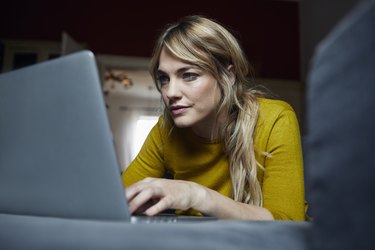 Whether you've just moved to a new neighborhood or have lived in the same place or a while, it is often nice to find out who lives on your street. Instead of going door to door or hoping for a neighborhood block party, you can use digital tools to connect you to your neighbors. Among them are online address lookup tools, neighbor search apps and geographically oriented networks like Nextdoor and Foursquare's Swarm.
Find My Neighbors' Names
If you want to see who lives in your neighborhood, use either an address lookup tool to see who lives in each nearby home or use a tool specifically designed to search around a given community. Whitepages.com provides both, and other online sites offer reverse directories to scout around a particular address to see who lives there.
Printed reverse directories were traditionally used for this purpose, and you might still be able to find them at your local library if you prefer a printed tool.
Various public records search tools show who owns the properties near you. Many counties and cities provide online tools to search property records to see who owns a particular plot of land. You may also be able to use real estate search engines to determine when properties have changed hands and who currently owns them.
Traditional Search and Social Media
When you're interested in a particular property and want to find out who owns it or lives there, try searching for the street address in a traditional search engine such as Google or Bing. Also search for the address in social media posts on networks like Twitter, LinkedIn and Facebook.The results for an address might include online resumes, business listings or classified ads for buying or selling goods. This information may help you locate your neighbors' phone numbers and names.
Geographical Social Media
If you prefer connecting with your neighbors online, check out the social networking site and app called Nextdoor. You specify your address when you register and are assigned to the closest Nextdoor neighborhood, which is specifically designed for communicating with people in your immediate area. If a nearby group doesn't exist yet, Nextdoor pairs your address with others to form a new neighborhood group.
You might also be interested in apps like Foursquare's Swarm and Yelp that allow you to check in at different locations and post reviews and comments. These can help you connect with people in your area and at the businesses you frequent.
Some neighborhoods use other local social tools such as Facebook groups or digital mailing lists where people can share information.