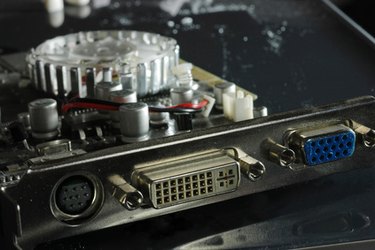 While there are a multitude of reasons why a NVIDIA video card may not display graphics correctly, in many cases problems occur when the graphics card is not inserted correctly into the PCI or AGP adapter, or when the NVIDIA card's driver is not up-to-date. If your monitor remains blank after powering on your computer, or if your card is freezing, crashing or displaying artifacts, checking the card's connection, as well as upgrading to the most recent driver, may help to resolve the issues.
Update Driver
Step 1
Go Nvidia.com. Select "Download drivers" from the menu.
Step 2
From the drop-down menus, select your video card's product type and series, as well as your computer's operating system and default language.
Step 3
Click "Search." Click "Download." Save the driver to an empty folder on your computer.
Step 4
Click "Start," "All Programs," "Accessories," and then "Run." Type "devmgmt.msc" into the window. Click "OK" to open Device Manager.
Step 5
Click the plus sign next to "Display adapters." Right-click your Nvidia graphics card, then click "Uninstall." Follow the onscreen instructions to remove the driver from your computer.
Step 6
Restart your computer in Windows Safe Mode. Press "F8" when the computer is booting to access the boot selection screen.
Step 7
Right-click "Start," then click "Explore." Browse through your system's directory until you locate the folder where you saved the driver file to.
Step 8
Right-click the file, then click "Run as administrator." Follow the onscreen instructions to install the driver to your computer.
Check Video Card
Step 1
Power down your computer, then remove the power cord, monitor and any peripheral devices from the rear of the PC.
Step 2
Touch the case to ground yourself, then gently lay your computer on its right side. Pop off or unscrew the case.
Step 3
Look near the rear of your motherboard for the graphics card. The card should stick out at a 90-degree angle from the computer. To confirm that the card is in fact your graphics card, check the back of the PC to confirm that a VGA or DVI port is installed to the other end of the card.
Step 4
Remove the screw securing the card, then gently press down on the edges of the card to confirm that the card is secure. If the card is loose or inserted improperly, one of the edges will stick out from the PCI or AGP port.
Step 5
Screw the card back into place. Place the case back on the computer, then reconnect all connections. Power on the computer.